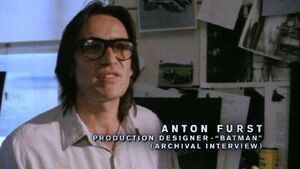 Anthony Francis Furst (6 May 1944 — 24 November 1991) was a production designer who won an Academy Award for designing and planning the Gotham City sets in the first film. Furst also supposedly designed all the gadgets and vehicles like the Batmobile, which was also featured in Batman Returns. His assistant Nigel Phelps is said to be behind many conceptual illustrations attributed to him in promotional material of the time.
Furst was unable to return to its sequel due to contractual obligations; he was replaced by Bo Welch and later Barbara Ling. Neither of which made any conceptual illustrations themselves by hand.
External links
Edit
Community content is available under
CC-BY-SA
unless otherwise noted.