For the universe the Motion Picture Anthology is set in, see Burtonverse.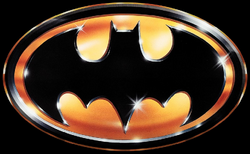 Batman: The Motion Picture Anthology, 1989-1997, also referred to as simply the Batman Anthology, is the original four-film series of Warner Bros.'s big-budget superhero fantasy films based on the DC Comics character Batman, all set in the Burtonverse. It is comprised of Batman (1989), Batman Returns (1992), Batman Forever (1995), and Batman & Robin (1997).
The Motion Picture Anthology was first released in 2005 as four two-disc special edition DVDs, and later rereleased in Blu-Ray form as a 4-disc set in 2009.
Films
The Motion Picture Anthology
Related films
Unproduced Films
History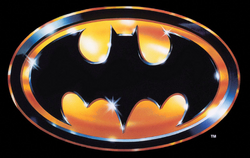 The films started with their first release in 1989 with Tim Burton's Batman, starring Michael Keaton as the title character. The film was a huge success; not only was it the top-grossing film of the year, but at the time was the fifth highest-grossing film in history. Burton and Keaton returned for the 1992 sequel Batman Returns, and in 1995, Joel Schumacher directed Batman Forever with Val Kilmer as Batman. Schumacher also directed the 1997 sequel Batman & Robin, which starred George Clooney as Batman.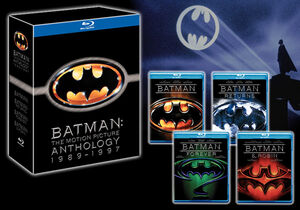 The franchise won the title of Batman Anthology in 2005, with the launch of Box Batman: The Motion Picture Anthology who included 2-disc special edition DVDs of the Burton/Schumacher Batman films.
Big budget Batman films continue to be made by Warner Bros., who started a new series in 2005.
Recurring cast
Legacy
Batman influenced Hollywood's modern marketing and development techniques of the superhero film genre and proved the critical and commercial viability of the genre. The last successful comic book film being 1980's Superman II. The first two films inspired the equally successful Batman: The Animated Series, which won multiple Emmy awards. In 1995 Batman Forever was the first major Hollywood film to create a website to promote its release setting a trend existing to this day.
References
External links
Community content is available under
CC-BY-SA
unless otherwise noted.