Jurassic World: Dominion Dominates Fandom Wikis - The Loop
Play Sound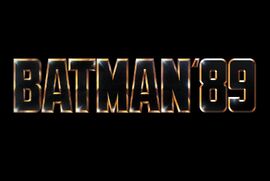 Batman '89 is a DC Comics limited comic book series created by screenwriter Sam Hamm and artist Joe Quinones that is set in the Burtonverse, serving as a sequel to Batman Returns (1992). It presents a continuation from the film more in line with Tim Burton's vision, ignoring the events of Joel Schumacher's films Batman Forever (1995) and Batman & Robin (1997) in a new branched timeline.
The series debuted on August 10, 2021, and five more issues will be released monthly.[1]
Description
Continuing the twisted adventures of DC's Dark Knight from Tim Burton's seminal classic Batman movies, Batman '89 brings in screenwriter Sam Hamm (Batman, Batman Returns) and artist Joe Quinones (Dial H for Hero) to pull on a number of threads left dangling by the prolific director. The gothic mentality behind the world, while still rooted in a sense of realism, helped inform many of DC's global fans' first impressions on the Dark Knight's Gotham. In the new Batman '89 comic, Hamm and Quinones will help usher in the return of Selina Kyle/Catwoman and will debut a new Robin! Plus, Quinones has a vision for Harvey Dent/Two-Face that is as close to movie magic as a comic can get!
Background
Original Batman '89 pitch
Following the success of the Batman '66 comic book series by Jeff Parker and Tom Peyer which served as a continuation of the classic Batman television series, comic duo Joe Quinones and Kate Leth pitched a new series entitled Batman '89 to DC Comics, which would have picked up in the wake of the events of Batman Returns. It would have seen the return of Selina Kyle/Catwoman, while also introducing Burton-esque iterations of Robin, Batgirl, Poison Ivy, and Two-Face that ignore the versions of the characters seen in Batman Forever and Batman & Robin. The run also would have introduced an incarnation of Harley Quinn. However, by 2016 DC Comics had turned down the idea for reasons unknown.[2] The most obvious reason being the expense of each actor's likeness, including imaginary casting of actresses like Geena Davis and Christina Ricci. In the final product the physical appearance of most characters seems altered, most notably Michael Gough and Pat Hingle. The supporting cast in Batman '66 also rarely resembled the original actor.
Project revival
On February 16, 2021, DC Comics announced that they would be introducing two new digital first comic book series, Superman '78 and Batman '89, expanding the worlds of Richard Donner's Superman universe, and Tim Burton's "Burtonverse", respectively. For Batman '89, it was announced that screenwriter Sam Hamm, who had previously written screenplays for Batman and Batman Returns, would be helming the new series alongside artist Joe Quinones, who had pitched the previous Batman '89 series several years prior.[3]
The series was initially set to debut Digital First with six chapters on July 27, 2021, followed by new chapters every week for the following six weeks. The series would then be published as six physical issues between August and October, which would also be available as one hardcover collection in October. However, these plans were changed and the series will now be published digital and print simultaneously, though it will still be six issues.
Issues
Gallery
Covers
Concept art
References