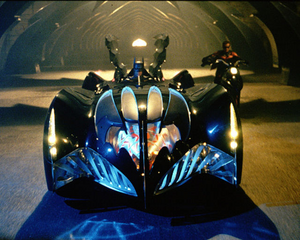 The Mark III Batmobile was created after the Mark II was destroyed by the Riddler
Features
Edit
Video Communication (Steering Wheel Monunted).
Voice Activation.
After his previous Batmobile was destroyed by The Riddler, Batman introduced this new Batmobile in the Batcave as it rised up from the turntable, just before he and Robin went on to face Mr. Freeze at the Gotham Museum of Art. Robin said he wanted a car adding that "Chicks Dig The Car!". Batman stated "This is Why Superman Works Alone". Before leaving the Batcave with the car, Alfred reminds Batman to bring the vehicle back in one piece. On his way out of the tunnel with Robin alongside him in his Redbird, Batman receives a video message from Commissioner Gordon about Freeze.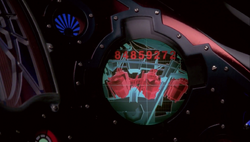 Later in the film while pursuing Freeze in his Freezemobile, the chase ends up on a giant statue. While riding down the arm towards the hand and fingers. Batman tells Robin to pull back cause he can't jump across the hand to the building but Robin insists that he can make it. To slow him down, Batman hacks into the Redbird's control codes of the motorcycle and orders the engine to be disabled. Robin's cycle stops short of the fingers after the Redbird slows down and the Batmobile makes the jump in the air while Robin screams in anger. While Freeze's Freezemobile lands on top of the building. Freeze shoots his beam at the Batmobile and freeze's the car. Batman is able to eject himself from the car while the now frozen car lands on top of the building in a thud. While Freeze laughs at this predicament he sees Batman gliding towards him and he crashes into the windshield of the vehicle and apprehends Freeze standing over him victoriously.
Back at the Batcave, the Batmobile is revealed to be in pristine condition when Batman returns to the cave after handing Freeze to the police. The Batmobile is seen again alongside the Redbird when Batman and Robin arrive at Mr. Freeze's hideout the Snowy Cones Factory after hearing about Freeze's escape from Arkham Asylum.
This Batmobile is the only one that isn't destroyed during the film.
This Batmobile is seen driven by Krayzie Bone in the Bone Thugs-n-Harmony music video Look Into My Eyes.