We're Getting Mutants in the MCU - The Loop
Play Sound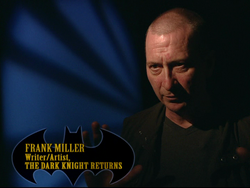 Frank Miller is a comic writer/artist and film director/producer. Interview footage Miller filmed for History Channel's Comic Book Superheroes Unmasked was used in the special features of 2005 dvd releases. As such, he is never shown commenting on the films directly.
Screenwriters Sam Hamm and Daniel Waters were great admirers of Miller's The Dark Knight Returns. Tim Burton sent Danny Elfman issues from his Dark Knight series to convince him that Batman was an interesting character. Michael Keaton read the collected edition to prepare for the role.
Following the backslash from Batman & Robin, Joel Schumacher has made claims that he wanted to do an adaptation of the Dark Knight prequel, Batman: Year One.
Quotes
On the Anthology series
Inside Film Magazine: Did you like the Tim Burton films at all?
Miller: I liked the first one. I liked Michael Keaton. I don't know how much I saw of the other ones. I know I had to tune in to see Michelle Pfeiffer play Catwoman because she's Michelle Pfeiffer and she was playing Catwoman. How many fantasies of mine can collide at the same time? I just generally didn't like the tone of the other movies. I didn't agree with it.
References
External links