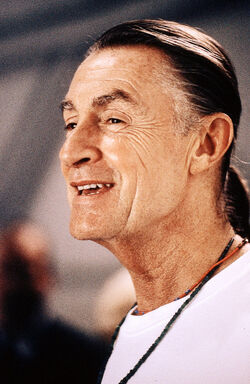 "They are called 'comic' books, not 'tragic' books, and I think we always need to remember that this is a big pop-culture opera, not Medea."
―Joel Schumacher
Joel Schumacher is an American director and producer. Schumacher directed the last two films in the anthology, Batman Forever and Batman & Robin.
Schumacher was handed the reins of the Batman franchise after Batman Returns failed to live up to Warner's financial exceptions and garnered negative reactions from parents and children.
Schumacher planned a fifth entry, Batman Triumphant, but this was cancelled after the overwhelmingly negative response to Batman & Robin.
Batman ForeverEdit
Batman & RobinEdit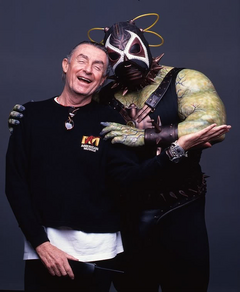 On Mr Freeze
Edit
"I was always crazy about Mr. Freeze from the television series and Arnold Schwarzenegger was my only choice from the beginning. He's a great action star, of course, but he also has a great sense of humor, which is crucial to the Batman movies. They are called 'comic' books, not 'tragic' books, and I think we always need to remember that this is a big pop-culture opera, not Medea." -1997 promotional interview
"Bane is one of the characters my seven year old godson taught me about, probably when he was about five, and um, Bane is made out of steroids and venom and he is, um, we use him as Uma's pitbull. I mean, she just can't kiss everyone to death in Gotham City, you know? It's a lot of people to kiss! And so sometimes she just needs someone to break down a wall, so he's a wonderful addition." -1997 promotional interview
References
Edit
External links
Edit