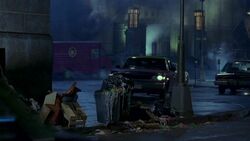 The Joker Van was the Joker's primary mode of transportation by night. Joker travelled to the Flugelheim Museum in this van for his "date" with Vicki Vale.
By day he preferred to ride in a black Sedan to keep a low profile.
Axis Chemicals van
Edit
The van was originally just a Axis Chemicals van, usually seen parked outside the gates.
Customized and repurposed
Edit
After Jack Napier fashioned himself as the Joker, he decided to customize a Axis van for himself self to compliment the Joker Goon Cars. It was seen as a transport vehicle for the Joker and his goons to the Flugelheim. Upon the gang giving chase to Batman and Vicki, the goons opted to pack into two Joker Goon Cars as Batman made his escape in the Batmobile.
It was presumably destroyed or abandoned with everything else at the Axis Chemical property.
Joker escaped the plant in a green helicopter and used it exclusively until his death shortly thereafter.
Behind the Scenes
Edit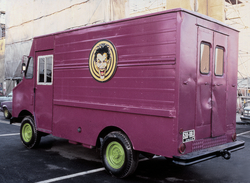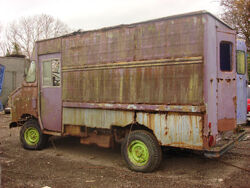 Joker drove a generic van in storyboards by David Russell.
The Joker Van was conceived during re-writes by Warren Skaaren, Jonathan Gems or Charles McKeown while filming was underway. Two vans in all were custom made for the shoot. The van was driven on camera by stunt driver Christian Wolf-La'Moy in three deleted scenes involving Jack Nicholson and Tracey Walter.[1]
On April 3, 2015, the original Joker Vans were put on eBay at a starting bid of £100. The vans were kept by the same company that produced them for the film, however, were stored outside and exposed to the elements for over two decades. It ended up selling for £950.[2]
Promotional material / merchandise
Edit
Despite barely making the film's final cut, several Joker Van toys were made by ERTL and ToyBiz.
Legacy / modern merchandise
Edit
The Joker Van has yet to appear again.
References
Edit
↑ IMCDb.org - "The Jokers van was one of those off the cuff ideas that script writers come up with during the shoot. It was actually the White Chevrolet Step Van (seen outside the chem plant) re-spayed purple with the great Joker logo. My brother and I worked as driver and supporting actors along side Jack Nicholson and Tracey Walter in 3 scenes using the Joker's van. But alas all ended up on the cutting room floor."
External links
Edit
Community content is available under
CC-BY-SA
unless otherwise noted.