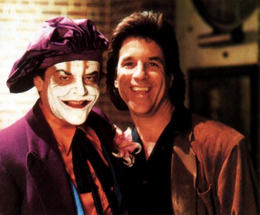 Jon Peters is an American movie producer. He and his partner Peter Guber were the primary producers of the original Batman. Peters was on set almost every day during principal photography, and insisted on certain action scenes. After Tim Burton was granted more creative control on the sequel, his involvement was lessened and reduced to executive producer. Despite claims of frequent creative differences from Burton, the two of collaborated again in the late 90's for an aborted Superman movie project.
Peters was not credited on Batman Forever, but attended the film's premiere.
For reasons unknown, Peters has declined modern interviews for documentaries like Shadows of the Bat: The Cinematic Saga of the Dark Knight. Director Jon Schnepp convinced Peters to appear in The Death of "Superman Lives": What Happened? shortly the film's premiere in May.
Producing Batman
Edit
Producing Superman
Edit
References
Edit
External links
Edit