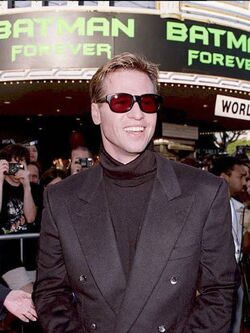 Val Edward Kilmer (born December 31, 1959) is an American actor who portrayed Bruce Wayne/Batman in Batman Forever (1995), replacing Michael Keaton. Kilmer decided not to return for Batman & Robin (1997), so was replaced by George Clooney.
Kilmer was the only Batman actor that actually recorded a new interview for 2005's Shadows of the Bat: The Cinematic Saga of the Dark Knight.
As Batman
Edit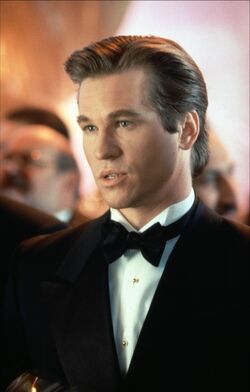 Difficult to work with
Edit
Director Joel Schumacher has often remarked about how "difficult" it had been to work with Kilmer.
Reception
Edit
Some critics charged that Kilmer gave a wooden performance as Bruce Wayne. Film critic Leonard Maltin, who criticized the dark tone contained in Batman Returns, complimented Kilmer's portrayal when he reviewed the film for his expanding collection of film reviews. Batman creator Bob Kane said in a Cinescape interview that of all the actors to have played Batman up to that point, he felt Kilmer had given the best interpretation.[citation needed]
Departure from the Batman franchise
Edit
Kilmer's departure from the series is a vague and controversial topic. Different stores have been given from different parties over the years.
References
Edit
External links
Edit