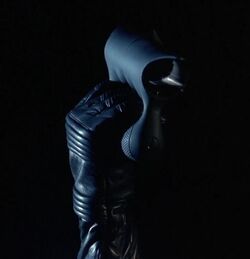 The zip-line grapple was a smaller version of zip-line gauntlet Batman used at the Flugelheim Museum. It did not need to be worn on the arm, and could be stored on the brass utility belt. Batman would abandon them after use.
Behind the Scenes
Edit
In the Daniel Waters/Wesley Strick screenplays, this gadget was only identified as "grapple." Waters distinguished the spring-action reel as the "grapple speargun."
Batman never makes an ascent in the sequel. He uses the grapple gun only as a weapon briefly at the beginning of the film. He uses these zip-line grapple launchers exclusively while traversing the city. In the final two Schumacher films, zip-lines are abandoned completely.
Community content is available under
CC-BY-SA
unless otherwise noted.